We are so sad that the 2008 Beijing Olympics are over. Our nights have seemed slightly dull since they ended, but the good thing is we aren't falling asleep on the couch and dragging ourselves to bed at 1:00. I was so impressed with our USA athletes. They all seem like great people, who have worked so hard to fulfill their dreams. It made me really proud to be an American.
More than once, well eight times to be exact, Shawn and I were sitting at the edge of the couch scream our guts out for Micheal Phelps. Wasn't he amazing.
I also loved to watch Nastia Liukin and Shawn Johnson in the gymnastics. I still think the Chines payed off the judges. I think Nastia deserved way more than she got.
I enjoyed watching the track and field events also. We had some great runners this year. I loved the race where we took all three medals, and the bronze medalist dove over the line. You could tell he really wanted it.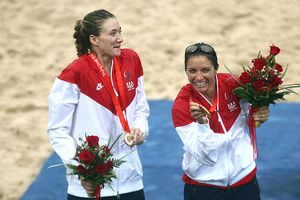 We also really got into the girls sand volleyball. Walsh and May were great athletes with a lot of determination.
I love the Olympics, it is such a cool way to unite the World, even if it is through blood and sweat.
So we decided we wanted to start training Jack for the 2024 Olympic games, sounds good, right. So here are some of the things we have been practicing.....
Pole Vault
Swimming